Feature Film Little Boy Interviews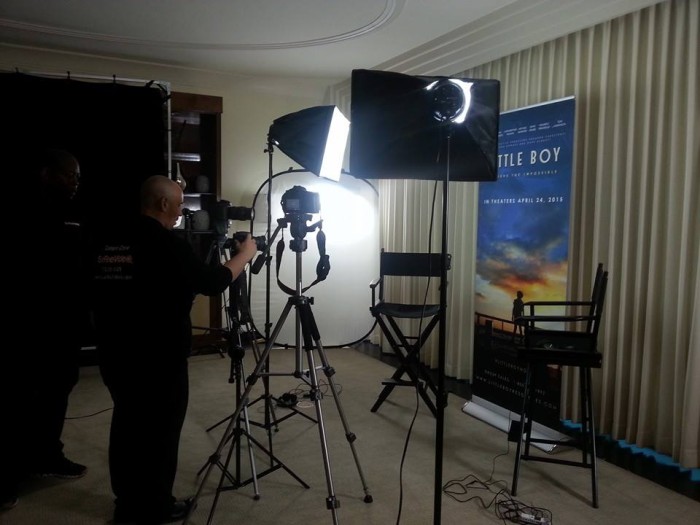 Robaxin uk The SurReel Video team was hired to shoot some interviews with the Producers of new film "LITTLE BOY" featuring Kevin James, Emily Watson, Michael Rapaport and Eduardo Verástegui.  The film airs in theaters April 24th.
On Set of interview shoot.  2 camera's set up and 1 more to go.  
Sound Check.  We are putting the microphones on Mr. President Fox of Mexico.  Yes, you read that right.
Setting up our equipment.
Setting up our equipment at the Trump penthouse suites.
STAR CAST MEMBERS
Jakob Salvati
Emily Watson
Cary-Hiroyuki Tagawa
Michael Rapaport
David Henrie
Ben Chaplin
Eduardo Verástegui
Ted Levine
Abraham Benrubi
and Tom Wilkinson
LITTLE BOY is a powerful and moving film about a little boy who is willing to do whatever it takes to bring his dad home from World War II alive. The heartwarming story will capture your heart and lift your spirits as it reveals the indescribable love a little boy has for his father and the love a father has for his son. Set in the 1940s, LITTLE BOY is an instant cinematic classic that captures the wonder of life through the eyes of a 7-year-old little boy. Written and directed by Smithsonian Institute Award winning director Alejandro Monteverde, LITTLE BOY highlights themes of faith, hope and love in the face of adversity.
SurReel Video is a corporate production company located in Las Vegas, NV.