Social Media Marketing Basics

Many thousands of large and small businesses have jumped on the social media marketing bandwagon and for good reason. Social media is a great catalyst of increased website traffic and with a high quality social media marketing strategy you can create a viral effect within your market.
Of course if you want to bring your business up to speed, then there are a few things you need to learn. You should seriously consider using social media as it has tremendous potential for your business.  Below is a infographic that explains how much of important role social media with have in 2014.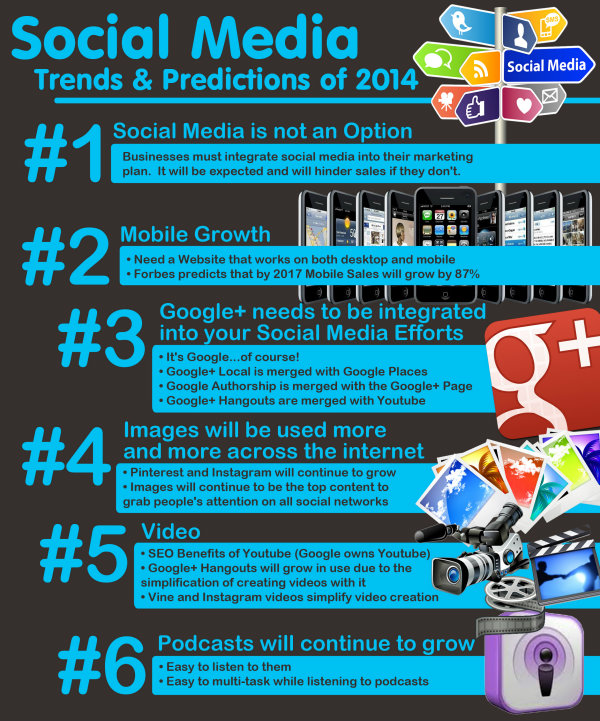 Produce Quality and Share Worthy Content
The biggest reward of social media marketing is gaining worldwide mass exposure, but you have to remember how important quality content is. Your social media success will depend on the quality of your content, and of course that extends to what is on your site, too. You have to do your research upfront, of course, and that means matching the audience to your offers. You also must know exactly what kinds of content that appeals to your target audience. That is the only way you will know what they want, and that will enable you to create the best content.
Build your Brand by Making an Impact
Social media gives you a great opportunity to build your success upon your brand. Your campaign needs to do all it can to make an impact. You need to create a unique identity. These elements will be great in your campaign. You should utilize some videos and pictures in your branding. People's first opinion of you will determine if they stay true to your brand or look elsewhere. If you take the time to make this campaign unique, you will be achieving a great impression.
Define your Goals
Defining a clear vision is important before you begin any social media campaign. Take time to consider what you really want from this. For example, you may want to leverage Facebook to get more fans to your page. You could also increase traffic by utilizing Twitter. This is why knowing your goals ahead of time can be very important.
The core of social media marketing is connecting with people, giving them good content and creating positive relationships  Social media is powerful tool that can help you get the most out of your brand, attract more people to your content and marketing message.